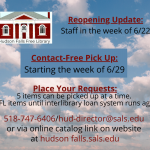 The Hudson Falls Free Library will begin reopening with staff coming in the week of June 22 and contact-free pick up of materials beginning the week of June 29. 
Patrons who had items on hold or in transit to be held before the March shutdown will be contacted to see if they still want what was requested.
Anyone requesting materials–Hudson Falls Free Library-owned items only for now–can call 518-747-6406, email hud-director@sals.edu or visit hudsonfalls.sals.edu for the online catalog link.
Returns can be put in the outside drop box.
The library is not taking any donations at this time. 
Looking forward to seeing you soon!