Job Opening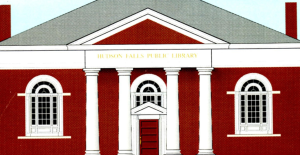 Hudson Falls Free Library
Library Clerk Position Open (Part-time)
The Hudson Falls Free Library seeks an enthusiastic individual to fill the role of part-time library clerk. This position requires strong customer service and organizational skills as you prepare, circulate and shelve library materials and assist patrons with a variety of informational and technological needs.
Duties: Primary responsibilities include (but are not limited to):
Perform circulation duties using a computerized system, including: checking items in and out, pulling holds, processing materials, registering patrons, collecting fines/fees. Also perform routine searches and updates of computer records.
Shelve items and perform shelf maintenance.
Respond to general information requests by telephone and in person, including library events and procedures as well as general reference and readers' advisory.
Assist patrons with basic computer skills on public computers; will also need to use staff printer/copy/fax/scanner machine.
Complete opening/closing procedures and occasional coverage of other shifts.
Assist with library program preparation and implementation, as directed.
Requirements: We are looking for a dependable candidate with the following skills and abilities:
Interest in library materials (such as books and movies) and library events; enthusiasm for reading and literacy. Knowledge of library methods, classification, and circulation systems is a plus.
Patience, courtesy, and the ability to establish good rapport with patrons creating a pleasant first impression of the library and representing the library in a professional manner.
Working knowledge of computers and a large degree of comfort with technology.
Physical ability to stand in place, bend, reach, climb, and to lift 25 pounds.
Excellent communication skills, expressing ideas clearly and effectively verbally and in writing.
Ability to follow written and oral instructions and procedures, to balance multiple projects simultaneously, and to work both independently and cooperatively.
Good attention to detail and organizational skills.
This position pays $14 per hour to start. 20 – 26 hours per week. Paid bimonthly.
Hours needed: Monday, Tuesday and Thursday afternoons—1:00 – 5:30 p.m.
Wednesday—1:00 – 8:00 p.m.
Saturdays (2 per month)—10 a.m. – 1:00 p.m.
Minimum qualifications: Undergraduate degree preferred. High school graduate necessary.
To Apply: Send resume and cover letter with the subject heading "Library Clerk Position" to
Kay Hafner, Library Director: khafner@sals.edu
Resumes accepted until position is filled.
Founded in 1910, the Hudson Falls Free Library is an association library serving the Village of Hudson Falls, Town of Kingsbury, and the Hudson Falls Central School District. We are accredited by the New York State Board of Regents and is a member of the Southern Adirondack Library System (SALS).
The Hudson Falls Free Library is an equal opportunity employer. We are committed to prohibiting discrimination on the basis of race, color, religion, creed, national origin, gender, age or sexual orientation, or any other characteristic protected by law.
Posted 6/8/2022